Chess Set: Tassadar
Elegant chess set consisting of:
-Classic chess pieces double weighted, varnished and felted. Supplied in a cotton bag.
-Chessboard inlaid with maple and walnut.
This fine chess board has a square size of 45mm and it fits to our medium and larger chessmen with a King height of 70 and 85mm.
---
---
Description
COMPLETO FORMATO DA:
- Scacchi perfettamente equilibrati e piombati, feltrati, lavorati a mano nella miglior selezione di legno di bosso e acacia.
Il disegno è il classico Lardy francese.
Re mm.76 - Base mm.32. In sacchetto di cotone. Doppia regina inclusa.
- Scacchiera in legno di noce e platano. Antiriflesso.
Effetto visivo di grande impatto. Molto apprezzato il dettaglio dell'angolo della scacchiera arrotondato a "V", con i bordi che rientrano verso la base d'appoggio.
Dimensioni: 45x45cm. Casella 45mm. Spessore 12 mm.
Si abbina con Re mm 70/85.
---
Information
Marca

LE DUE TORRI

Code

Tassadar
---
You may also like: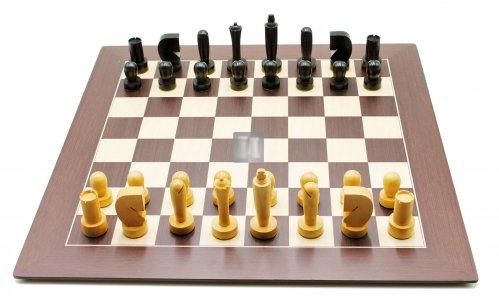 € 279,00
Add
News
€ 185,00
€ 169,00
Add
---