ChessBase Magazine 208 - DVD
ChessBase Magazine is the most comprehensive and sophisticated chess magazine ever. World-class players analyse their brilliant games and explain the ideas behind the moves. Opening specialists present the latest trends in opening theory and exciting ideas for your repertoire. Master trainers in tactics, strategy and endgame show you exactly the tricks and techniques you need to be a successful tournament player! Available as download (incl. booklet as pdf file) or on DVD with accompanying booklet by post.
---
---
Description
Highlights
On the first page of ChessBase Magazine #208 you have direct access to the editors' recommendations: the highlights of the issue!
Just click and enjoy! European Individual Championship 2022: Analyses of the new Champion Matthias Blübaum as well as of Gabriel Sargissian, Ivan Saric, Ruslan Ponomariov, Aryan Tari, Ivan Cheparinov, Rasmus Svane, Yuriy Kuzubov, Maxime Lagarde and others - Absolute recommendation: Jan Markos' new video series "Practical Tips for the Tournament Player" with the first training unit on "Time Management"! - Are you looking for a fighting concept against the Trompowsky? In her opening article Petra Papp suggests 1.d4 Nf6 2.Bg5 c5!? - "Special" on the FIDE World Championship 1997: exclusive collection of 22 games with detailed commentary + articles on strategy and endgame highlights - Or get directly into interactive training with Robert Ris and replay a current master game "Move by Move" with video feedback!
European Championship 2022: Matthias Blübaum celebrated the greatest success of his career so far by winning the European Championship. The new champion comments on two of his games as well as the winners of the silver and bronze medals, Gabriel Sargissian and Ivan Saric. Plus analyses of many other players, including Ruslan Ponomariov, Aryan Tari, Ivan Cheparinov, Rasmus Svane, Yuriy Kuzubov, Maxime Lagarde and others.
Superbet Bucharest 2022: Maxime Vachier-Lagrave beat Levon Aronian and Wesley So in the tiebreak. Anish Giri comments on three highlights from Bucharest, Dorian Rogozenco presents two games of the winner in the video.
Our new author, Jan Markos, is a Slovakian chess book author, trainer and grandmaster. His first contribution is about time management. First, Markos elaborates on three general and easy-to-implement recommendations in the more than 20-minute video. At the beginning there is a fundamental question: in which types of positions should we invest time at all - and in which not?
CBM authors analyse their favourite games from the first knockout world championship 25 years ago. An exclusive collection of 22 annotated games awaits you!
Following his examination of the London System against the King's Indian in CBM 207, Tanmay Srinath defends his favourite opening with White in this issue against an exceedingly combative approach by Black: 1.d4 Nf6 2.Bf4 c5, which immediately leads to sharp and double-edged play. After 3.d5 b5!? the Indian recommends the enterprising pawn sacrifice 4.e4!
---
Information
Marca

ChessBase

Code

SCBM208
---
You may also like: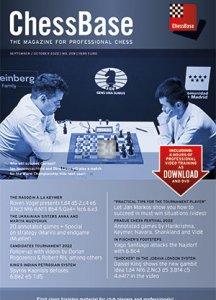 € 19,95
Add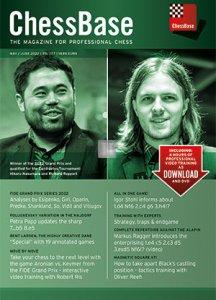 € 19,95
Add
---