Trio game-set: chess, checkers, Nine Men's Morris - Dal Negro
Chess, checkers and Nine Men's Morris:: Dal Negro brings together three of the greatest games of all time in one superb package.
Chess originated in India, from which it spread to Persia and then into Europe and subsequently the rest of the world. The modern version of ancient checkers developed in France; numerous variants were to follow around the world.
Less demanding but challenging and fun, Nine Men's Morris is certainly one of the best known and most played mind games.
Box size:: 37.1 x 37.1 x 6.6 cm
Material: wood
---
---
Description
Tre classici giochi in un unico prodotto! Contenitore in legno di pino e piano double-face.
Scacchi, Dama e Tria: queste confezioni riuniscono tre fra i più grandi classici del gioco.
Gli scacchi provenienti dall'India dalla quale si sono diffusi attraverso la Persia, sono stati introdotti in Europa dagli Arabi, tra il 700 ed il 900.
Il gioco della Dama è nato invece in Francia intorno all'anno Mille per poi diffondersi nel mondo in numerosissime varianti.
Meno impegnativo, ma ugualmente interessante, Tria è certamente uno dei più conosciuti e praticati giochi di allineamento.
Dimensioni prodotto: 36 x 36 x 6cm
Re altezza 57 mm
Dama 27 mm
Materiale: Legno
---
Information
Marca

Dal Negro

Code

053909

Isbn

8001097539093
---
You may also like: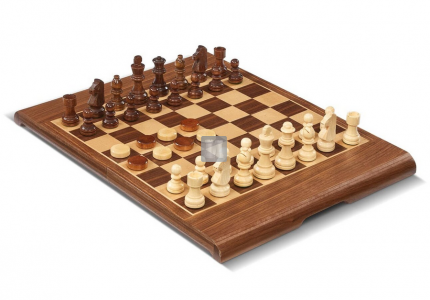 € 149,00
Add
---