ChessBase 16 Premium Package - DVD - 2022
The entry into the chess cosmos. ChessBase 15 program + new Big Database 2020 (8 million uncommented games). Plus 3 issues ChessBase Magazine and CB Premium membership for 6 months!
---
---
Description
SFRUTTA I VANTAGGI DEL NUOVO CHESSBASE 16 SEMPRE PIÙ VELOCE, FACILE ED EFFICIENTE! IL NUOVO PACCHETTO INCLUDE IL NUOVO MEGA DATABASE 2021.
ALLENATI COME I MIGLIORI GIOCATORI DEL MONDO: ORA PUOI FARLO ANCHE TU!
La chiave per accedere a nuove idee, analisi precise e preparazione mirata!
Novità in ChessBase 16*
- Accedi alle raccomandazioni per il repertorio di apertura con un semplice click. Potrai selezionare fra: varianti principali, varianti di moda, linee minori, varianti aggressive, gambetti, finali
- Esplora le varianti in modo più chiaro e ordinato grazie alla visualizzazione dinamica della notazione
- Ricevi le notifiche delle innovazioni introdotte da poco, con accesso diretto al database
- Preparati sui tuoi avversari, identificando le loro lacune nelle varianti del tuo repertorio
- Rimani aggiornato sui trend con le annotazioni dell'"Analisi Tattica"
- Aggiorna il MegaDatabase con un semplice click
- Dopo un aggiornamento del Megadatabase, passa in rassegna le ultime innovazioni importanti ed i trend della teoria delle aperture
- Ricerca le posizioni tattiche caratteristiche di un certo repertorio di apertura
- Acceleratore di ricerca snellito: lo spazio su disco richiesto è stato dimezzato
ChessBase 16 starter package include:
Programma ChessBase 16 con accesso al live-database ChessBase (8 milioni di partite)
Mega Database 2021 DVD con 8.4 milioni di partite, 85mila commentate
Premium membership per 12 mesi a Playchess e per gli account ChessBase
Menù in italiano, Help e PDF online in inglese
6 numeri del ChessBase magazine
500 ducati ChessBase
Correspondence Database DVD 2020
Endgame Turbo 5
Requisiti di sistema
Minimum: Dual-Core, 4 GB RAM, Windows 7, DirectX11 graphics card with 256 MB RAM, DVD-ROM drive, Windows Media Player 9 and Internet access to activate the program, ChessBase Cloud and updates. Recommended: PC Intel Core i7, 2.8 GHz, 16 GB RAM, Windows 10, DirectX11 graphics card (or compatible) with 512 MB RAM or more, 512 GB SSD, Windows Media Player, Adobe Flash Player (Live coverage), DVD ROM drive, Full HD Monitor and Internet access to activate the program, ChessBase Cloud and upd
---
Information
Marca

ChessBase

Code

SCB16p

Isbn

9783866817791
---
You may also like: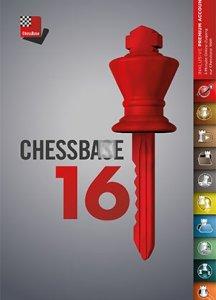 € 119,90
Add
---